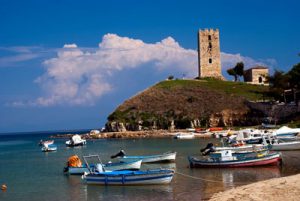 The villas are located on the Kassandra Peninsula of Halkidiki, the Panorama of Nea Fokea, 58 km from Thessaloni airport Makedonia and the city, and have easy and secure access.

The location is ideal to get know the wider area which is of high historical and cultural importance since it gives you the opportunity to visit significant sights such us the perfectly perserved byzantine Tower of Nea Fokea and Saint Paul's Gate.
Don't fail to visit
    -Kallithea: Cosmopolitan and famous for its nightlife. Near the village you can visit the archaeological site of the Sanctuary of Zeus Ammon.
    -Known worldwide and developed tourist coastal area Sani located at 9 km.
    -The amazing beaches of Afytos, Kryopigi, Polyxrono, Chanioti, Pefkohori, Xenia Beach in Paliouri, Posidi, Fourka.
       All the beaches are organised and awarded with the Blue Flag award.
    -Τhe vast beach of Agios Mamas in Potidea, where you can discover your adventurous side by trying any of the water sports available
    -The traditional village of Afitos and the nice beach.
    -Agia Paraskevi's hot springs, where you can indulge in the therapeutical qualities of the thermal springs of the ultramodern spa.
    -Nea Potidaia, famous for its fish taverns and the waterway that impressively connects the Toronian Gulf with Thermaikos Gulf.